Prosecute powerful persons behind galamsey – Kobina Nketsia
Powerful persons involved in illegal mining activities [Galamsey] should be prosecuted, Paramount Chief of Essikadu Traditional area, Nana Kobina Nketsia has said.
Nana Nketsia who made the suggestion at a stakeholders' forum on illegal mining, organised by Citi FM and WACAM, indicated that it will be unfair to arrest persons actively involved in galamsey and pardon other powerful persons influencing these activities.
Nana , in his capacity as Co-Chair of the forum, therefore asked various key stakeholders to ensure persons who fall under these two main categories; "victims" and "victimizers" are fairly dealt with.
"The boys we see working in the pits that we think are causing environmental damage, see them in one way as victims of a dishonest system. They themselves don't know what they are doing. It is the victimizers that we should search for… those victimizers responsible for creating these victims and thereby destroying our future."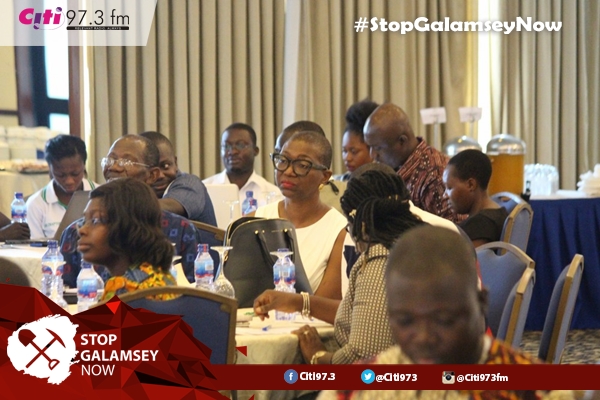 Ghana's future has been sacrificed
Nana Nkestia also highlighted the debilitating effects of illegal mining activities, saying the future of Ghanaians has been sacrificed for the menace. "My future , our future is being sacrificed for illegal mining activities," he said.
He further charged the media to continue its fight against illegal mining , saying "I am grateful to the media but please let this not be a nine day wonder. You cannot stop now that we are awake. You cannot go back to sleep. It is unpardonable and those yet unborn will never forgive us.
The galamsey menace continues to pose a threat to water bodies, aquatic life and agriculture in the country.
In the Western Region, the River Pra and River Ankobra are among the major bodies suffering from the fall out of illegal mining. The menace is not only affecting water bodies. Water treatment plants such as Daboase and Kyebi plants are not working in the region due to galamsey.
In the Eastern Region, the main water body that has been polluted is Birim.
The situation with degradation of natural resources is so dire that Ghana may soon resort to the importation of water by 2030 if the act is not halted.
Several efforts by government including setting up an inter-ministerial task-force in the previous administration to tackle this menace has proved futile.
Citi FM in a bid to find a lasting solution to this challenge has therefore undertaken a number of programmes including street campaigns in Accra and other regions.
In these campaigns the station made some five demands listed below:
The total cessation of all small and medium scale mining for a period of six months
• The cessation of the issuance of new mining licenses for a year
• The reclassification of mining categories to reflect the use of new/larger equipment
• The allowance of water bodies to regenerate their natural ecology
• Tree planting and a land reclamation project
–
By: Marian Ansah/citifmonline.com/Ghana
- See more at: http://citifmonline.com/2017/05/17/prosecute-powerful-persons-behind-galamsey-kobina-nketsia/#sthash.oVASsND5.dpuf